Remember the Johnny Cab from Total Recall?
In the old Arnold Schwarzenegger science fiction movie (which was filmed long before ride-hailing apps like Uber and Lyft), we see a futuristic society where self-driving "Johnny Cabs" autonomously shuttle people across town.
Admittedly, in the movie, the Johnny Cab was quite annoying and actually somewhat creepy. Seriously, who would go for a ride with a robot that whistles and looks like a haunted doll?
But the movie got one thing right: Robotaxi services are the future.
And that future is happening right now. Not in 2084 like Total Recall projected. But in 2021.
Last week, Baidu launched its robotaxi service in Shanghai, marking the fifth city where passengers can hail an autonomous taxi. The service will include 150 stations across the city, from which passengers can call a robotaxi between the hours of 9:30 a.m. and 11:00 p.m.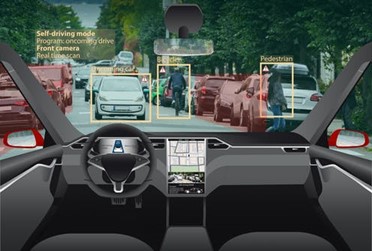 Meanwhile, over in Europe, Intel's Mobileye unit plans to launch a robotaxi service with rental car giant Sixt in Germany in 2022. Stateside, Waymo – Google's self-driving business – launched its robotaxi service in San Francisco last month. GM's self-driving unit, Cruise, plans to do the same before the end of the year.
Also, Hyundai recently announced that its new Ioniq 5 will provide autonomous Lyft rides in various cities throughout the U.S. by 2023.
Oh… and these robotaxi services aren't just for people… they're for goods, too!
Case-in-point: In Houston, Domino's is delivering pizzas to customers via a self-driving delivery vehicle powered by AV technology company Nuro. Self-driving cars are also delivering prescriptions for CVS and packages for FedEx in certain U.S. cities.
Folks, the robotaxi future has arrived.
Does this mean we're all going to be hailing robotaxis by this time next year?
No. Far from it.
Like all innovations, the emergence of robotaxi services will be a multi-year journey full of fits and starts. But there will be more starts than fits, and yes, eventually it will end with robotaxi services being a global ubiquity.
But don't expect that to happen next year.
In 2022, beta robotaxi services will begin spreading across various cities in North America, Europe, and Asia. Those services will be greatly limited in terms of scope and supply. They will include only a handful of cars in service. They will drive on largely predetermined routes. And they will only allow a very small group of test users on them.
By 2023/24, those services will expand. Small beta test services will expand into new cities, while the ones already established in certain cities will expand the number of cars in service, along with more possible driving routes and more users.
In 2025, robotaxi services will become standardized. The tech will be good enough to establish widespread operations. Legislation will progress to appropriately regulate these services. Consumer comfort with these services will rise. In most cities across developed economies, you'll be able to hail a robotaxi.
By 2030, robotaxi services will a global ubiquity, and human-powered Lyfts and Ubers will be a thing of the past.
So, this is a 10-year journey we're embarking on — and we're in the top of the first inning.
You know what that means? Today — right now — you have the chance to get in on the ground-floor of an investment megatrend that will redefine the multi-trillion-dollar global transportation market as we know it.
You could make a lot of money in this investment megatrend… but only if you pick the right self-driving and robotaxi stocks.
You see… we all know self-driving is the future of transportation… so, naturally, everyone wants to start a self-driving company these days, and every VC wants to pour money into the space.
A lot of these companies will be failures. A few of them will be grand-slam hits.
Knowing the difference can be tough, because it all comes down to the legitimacy of the technology. And, in order to make a call on that, you have to be knowledgeable on the tech, which is very complex.
That's where we come in. We've put together a team of physicists, computer scientists, and technologists who understand self-driving technology at a very granular level. We know this tech. We can tell you if an AV company is legit, or if it's just another "wannabe."