Cardano price completed seven consecutive weeks of weekly closes below their open.
Extremely tight trading ranges often preceed explosive movement.
The next bullish breakout for Cardano is likely to target new all-time highs in the $4 value area.
Cardano price action has traded in a tight range between $2.08 and 2.30 for over a month. While Bitcoin, Ethereum, Polkadot, Shiba Inu and other major cryptocurrencies have pushed to new all-time highs, Cardano sits tight.
Cardano price action shows bullish conditions in time and price
Cardano price could breakout very soon. Seven consecutive weeks of closes below the weekly open completes what W.D. Gann called his 'Death Zone' cycle. It is a forty-nine to fifty-two day cycle which often results in a powerful corrective move in the opposite direction. For Cardano, this means bulls may see an end to the frustrating conditions of sideways price action.
The $0.05/3-box reversal Point and Figure Chart below shows Cardano price has a very bullish setup developing. The current column of Os shows there has been a breakdown below a double bottom. If a new column of X's develops and moves beyond the double-top that would develop at $2.40, an entry at $2.45 would verify a pattern in Point and Figure analysis known as a Bear Trap. The projected profit target utilizing the horizontal profit target method in the Point and Figure analysis is precisely $4.00.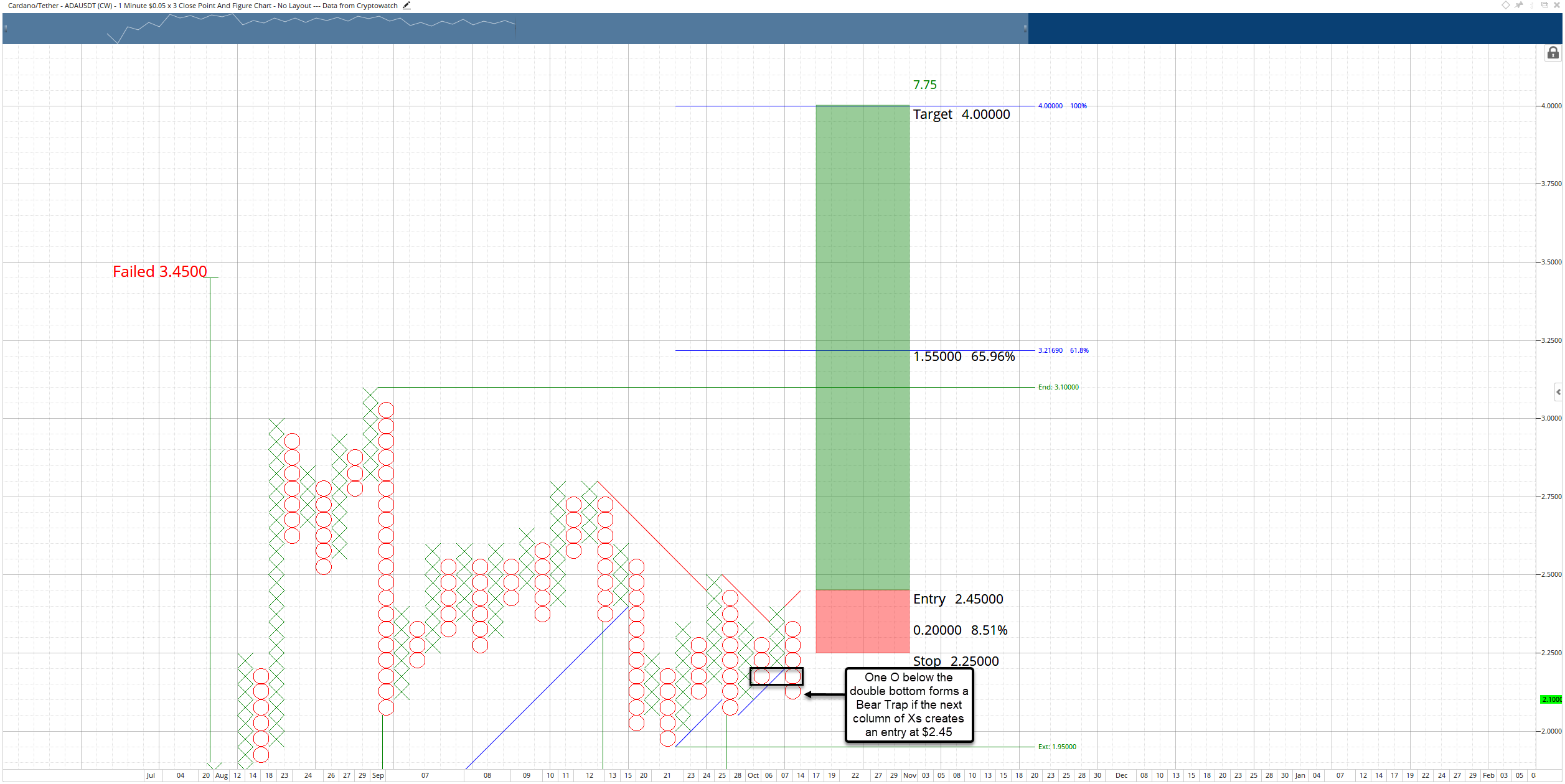 ADA/USD $0.05/3-box Reversal Point and Figure Chart
The current O-column could move one more box down, and the bullish setup would still be valid. However, it will be invalidated if Cardano moves down to $2.00. From the $2.00 level, Cardano would instead be under threat to push lower towards the $1.70 to $1.80 value areas.