Over the past many weeks, see my last article here; I anticipated using the Elliott Wave Principle (EWP) that Ethereum, aka Ether, (ETH) would pull back, rally again, experience a more significant pullback, and then get ready for the rally to $9000. As stated in my September 23rd update, "Albeit the cryptocurrency did not adhere to the ideal/textbook path, the overall pattern forecasted over a month ago, and in fact, already drafted early August (see here), came to fruition."
In addition, in that late-September update, I found "Wave-2 looks about complete," and "If $2678 was all she wrote [for wave-2], I consider [my prior] forecast complete and will start to look for the setup towards $9000." Thus, I see no reason to change my tune as IMHO, and now I can fine-tune the setup for the hard of the preferred pending rally: the 3rd of the 3rd wave. See Figure 1 below.
Figure 1. ETH daily chart with EWP count and technical indicators.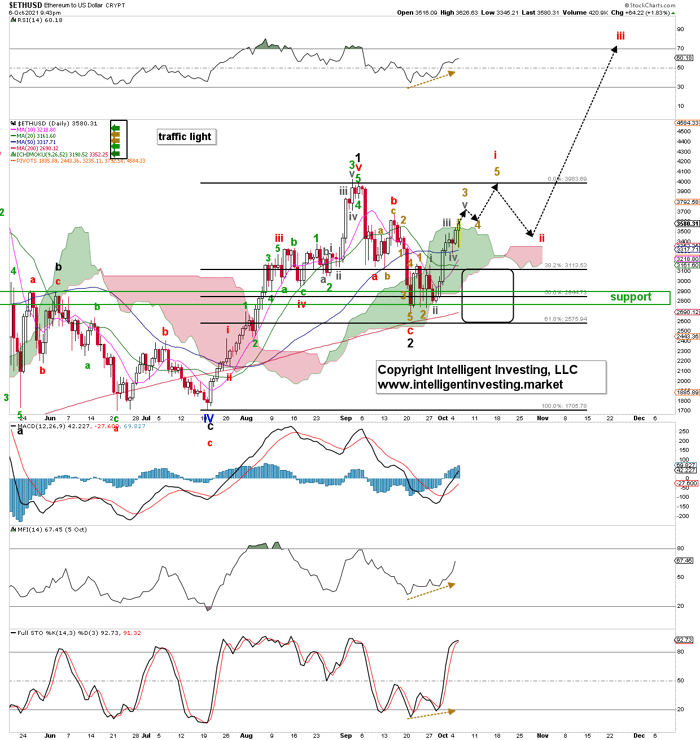 Wave-2 looks complete, anticipating the next big move.
Since the $2678 low, ETH has moved in what can best be described as impulsive (5-wave) moves higher, and corrective (3-wave) moves lower, the details of which I share daily with my Premium Crypto Trading Members. But, Figure 1 above shows plenty of detail and suggests ETH should wrap up a few minor 4th and 5th waves to complete (red) intermediate wave-i of (black) major-3. Remember, in an impulsive move, wave-2 comes after wave-1, then a wave-3, followed by a 4th and 5th wave. Always. Thus, as long as ETH can stay above the (green) minor-1 high (solid green down arrow) at $3173 over the next few days, it should ideally top out around $4000+/-200.
Then (red) intermediate wave-ii should take hold for several days before the heart of the third wave kicks in: (red) wave-iii. The wave-ii will essentially be the last good time to "load up the boat," "back up the truck," etc., as buyers will step in quicker than you can say "lift-off". Lastly, please note how ETH is back above all its simple moving averages (SMAs), turning "the traffic light" green and is also back above its Ichimoku cloud. All of these parameters tell us the trend is now higher. Thus a Bullish EWP perspective is preferred.
Bottom line: the daily chart is technically Bullish. Already since early August, my EWP-based anticipated path has filled in rather well, and I expect ETH to continue to set itself up for a big rally to, for starters, around $7500. That would be wave-3 of a more significant Primary-V wave. Over the next few days, it should, as long as it remains above $3173, carve out a few minor 4th and 5th waves to complete wave-i of 3 of V around $4000+/-200.
Wave extensions can always happen, so please be aware that upside surprises and downside disappoints in Bull markets. Once wave-i completes, expect a mild pullback before the real kicker starts: wave-iii of 3.