Ethereum is currently trying to settle above the resistance at $4,165 while Bitcoin pulls back from record highs.
The world's leading cryptocurrency has recently made an attempt to settle above the $67,000 but failed to develop sufficient upside momentum and pulled back. Bitcoin's RSI remains in the overbought territory, and the risks of a pullback remain at high levels. However, the current upside momentum is very strong so Bitcoin will have a good chance to get to the test of the psychologically important $70,000 level in case it manages to settle above $67,000. This move would be bullish for the whole crypto market, including Ethereum.
The leading coins, Bitcoin and Ethereum, attracted significant interest in recent trading sessions, and it looks that crypto traders are currently focused on the big names which is bullish for Ethereum.
Technical Analysis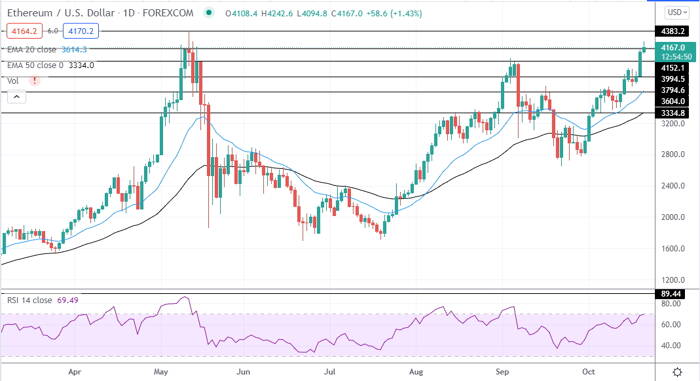 Ethereum is currently testing the resistance level at $4,150. RSI is close to the overbought territory, but it remains far below levels that were reached back in May when Ethereum visited current price levels. Thus, there is plenty of room to gain additional upside momentum in case the right catalysts emerge.
In case Ethereum manages to settle above the resistance at $4,150, it will head towards the next resistance level which is located near the $4,400 level. A move above this level will attract more speculative traders and boost Ethereum to new highs.
On the support side, a move below $4,150 will push Ethereum towards the support level which is located at $4,000. A successful test of this level will open the way to the test of the next support at $3,800. If Ethereum gets below $3,800, it will head towards the support at the 20 EMA at $3,600. A move below the 20 EMA will push Ethereum towards the 50 EMA at $3,335.