There's still plenty of cool stuff happening in the New Digital World, as this week's Permissionless conference illustrates. But in a bear market, the most crucial barometer to watch is Bitcoin (BTC-USD) – where some rumblings are happening beneath the surface. Let's take a look.
Check Out the Realized Price
As we've all heard – and likely experienced – BTC took heavy losses when algorithmic stablecoins turned out to be not so stable, with ripple effects across crypto. As mainstream outlets like Fortune reported last Tuesday, the "Bitcoin price crash has left 40% of investments underwater."
It's worth noting that plenty of those investors piled in last year, as an epic wave of "fear of missing out" (FOMO) buyers. And here's why that's notable:
On the Bitcoin blockchain, we can gauge the cost basis of all the BTC that's currently in circulating supply. This "realized price" has "provided sound support during bear markets," as on-chain analysts at Glassnode have found. And as of Monday, BTC investors' realized price is far below 2021 levels – at $23,940.
When the TerraUSD (UST-USD) stablecoin was collapsing last Wednesday, BTC got within shouting distance of its realized price, falling to $25,835.
Even now, bitcoin's only about 20% from its realized price – which "has provided signals of market bottom formation when the market price trades below it," notes Glassnode.
Market bottoms take time, of course, and here's what bitcoin's historical trend tells us:

Source: Glassnode
These painful bear markets can last quite a while – a year and 43 days, on average. Yet within that: "Over time, each bear cycle has spent less relative duration below the realized price," as we saw in the % of Bear column above.
So, clearly that $23,940 realized price will be one to watch going forward. And it aligns with one of the key technical support levels that we'll see from Luke Lango of our Crypto Investor Network below.
What's really interesting, though, is that as we approached BTC's relative price of $23,940…
Buyers Have Started Accumulating Bitcoin
When "a large proportion of the market are adding to their on-chain balances," Glassnode's Accumulation Trend Score for the crypto will get close to 1.0.
On Thursday – the very day after BTC hit its low of $25,835 – its Accumulation Trend Score started climbing. By Sunday, it was at 0.926! That's a reading not seen since early April.
And we can even see who has been accumulating the bitcoin: mainly investors with wallets holding 10 BTC or less…but also "whales" with more than 10,000 BTC!
This is not accounted for by the exchanges, by the way. Exchange balances may have spiked before this – as Terra (LUNA-USD) dumped its BTC reserves and created a panic that had others offloading their bitcoin, too… However, balances then shrunk significantly since Thursday, May 12 (as the blue line shows us on the chart below):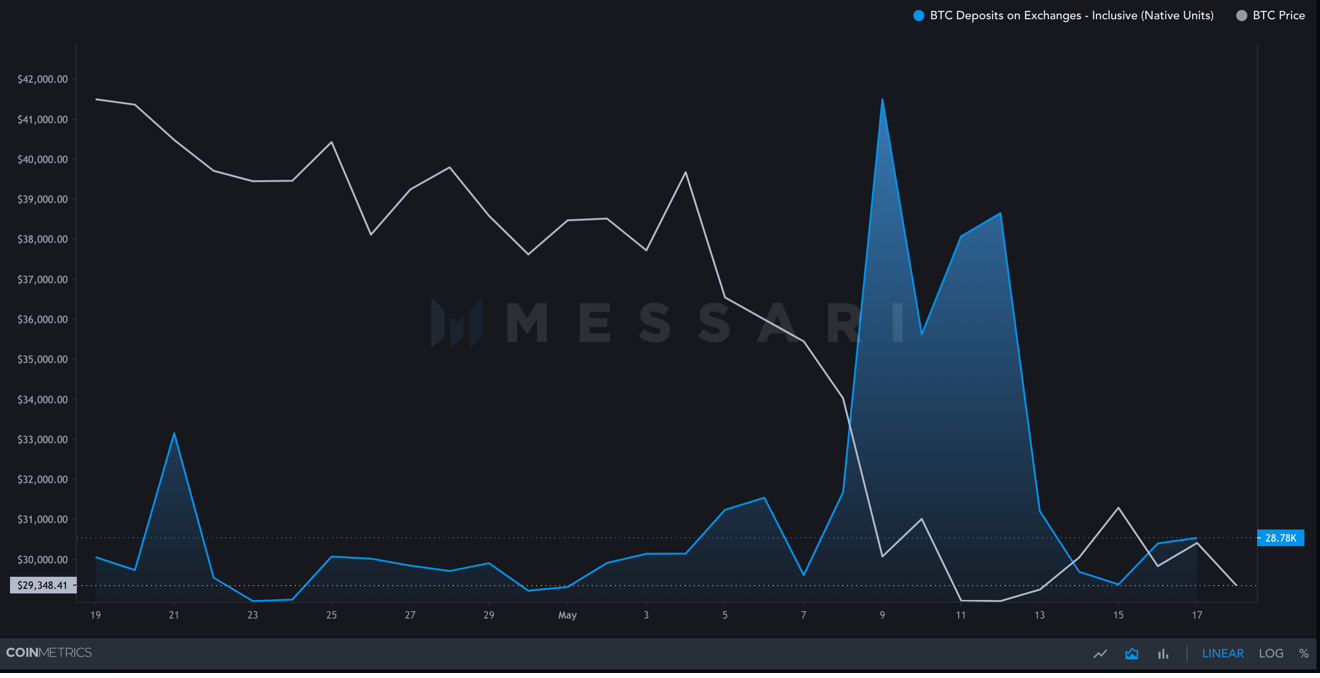 Source: Messari
We also know that wallet ages have only continued to grow. If long-time bitcoiners had abandoned ship and the buyers were all new money, then BTC's average wallet age would be dropping. Instead, it's trending higher. The average age is now nearly 3 years, 2 months, as per the blue line below: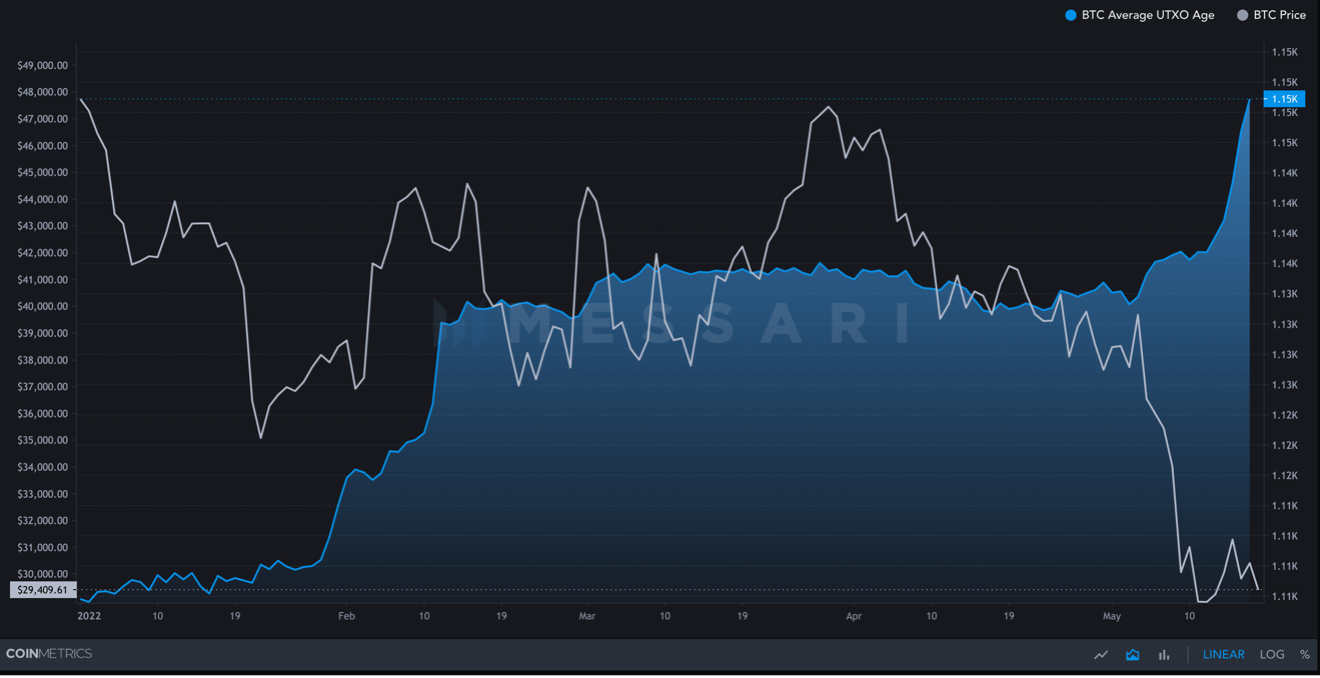 Source: Messari
So, it could very well be the long-time bitcoiners – who presumably have a much lower cost basis – who are willing to buy BTC down here.
That being said, there is some interest by newbies, as well. As Unchained charts in its HODL Waves age distribution of wallets, the "1 day – 1 week" group makes up 4% of wallets, up from about 2% before all this craziness began last week.
What About Institutions?
Many investment funds would fall into the "whale" category of 10,000 BTC or more. And given that Wall Street has only more recently come around on bitcoin…they'd probably also show up as "1 year – 2 year" wallets. This group is also growing on the HODL Waves age distribution chart.
A clearer indicator of institutional activity is the "Coinbase premium." While Binance (BNB-USD) is the largest crypto exchange overall, Coinbase Pro is the one that caters to institutions specifically. So, when BTC prices at Coinbase Pro are higher than on Binance, it suggests that institutions are buying bitcoin.
Earlier in May, the "Coinbase premium" went negative, as Wall Street must have been selling hard. But this week, Coinbase Pro and Binance prices for BTC are very, very close.
As recently as Monday, various fund managers were telling CoinDesk that BTC was just another "tradable asset" that institutions were selling. Now, that might be starting to change!
Technicals are Still Iffy, Though
Big money coming in – while long-term investors stay in – is what helps assets climb out of a bear market. But, again, that takes time. And the charts aren't looking too pretty as BTC doesn't seem to know if it wants to hold $30,000 or not.
Given that we got down to about $26,000 last week, bitcoin doesn't even seem to know if it wants to hold the long-term range between about $40,000 (the 2-year moving average) and $22,500 (the 200-week moving average), as Valkyrie Funds highlighted in its market review yesterday. Technical analysts for Seeking Alpha agree that we could see bitcoin test $22,000.
Luke Lango provides all the key technical support levels to watch in this chart from his Crypto Investor Network update Saturday: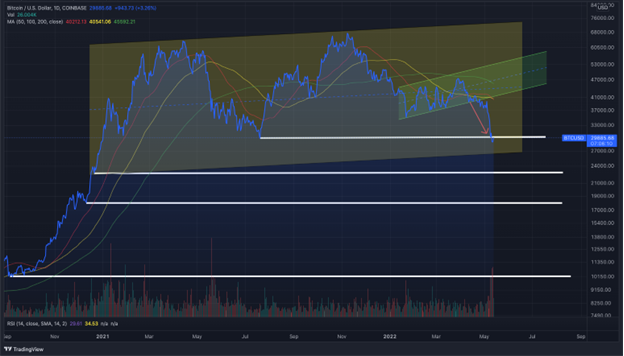 Source: Crypto Investor Network
As Luke shows us, below $30,000 the next strongest support level is below $24,000. (An area you'll remember from the "realized price" analysis showing that the cost basis of circulating BTC is $23,940.) That better hold or we could be heading to $18,000, then $10,000 before this is all over.