The Roys (and co) are back! That's a phrase we never thought we'd have the pleasure of saying, but following a hefty delay imposed by the pandemic, Succession season three is upon us.
To celebrate its long-awaited arrival, Digital Spy had a chat with Shiv herself, Sarah Snook, about the satire's latest volume, how she captures the essence of her character and if it'll return for season four.
Season three continues to tap into all of the elements that people love so much about the show, but how has its creator Jesse Armstrong ensured that the narrative continues to move and evolve?
"The way we ended season two, it really had to pick up a notch. Kendall drops that massive bombshell, and the fallout from that is, in any circumstances, going to be a scramble to get back in power. The Roys – something that they've been bred to pursue and chase after, is power. All of us, I think, really have to work out what side we want to align ourselves on so that we can remain either in power or close to it."
Thinking about Shiv specifically, is it more of the same from her in season three, or are we going to see new layers to her character as fresh challenges and situations arise?
"Yeah. I think it's a development, really. It's seeing Shiv in her next stage, in her next stage of life, almost. We've seen her in one career, in politics, outside the family. We've seen her get married. And then we're seeing her having to manage being married to somebody who's in the family company as well. And really in this next season, we're looking at a woman who's, you know, needing to grow up in a different way, to self-identify – whether that's with family or not. It's part of her challenge this season."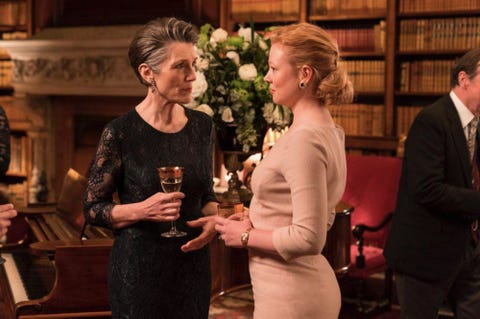 COLIN HUTTON/HBO
Did it frustrate you when Shiv decided to turn her back on her own career in politics and pull up a chair at the Royco table?
"Oh, yeah, sure. As a character thing, maybe she should have been frustrated with herself. But as an actor, knowing that that's going to set up a real complexity of conflict for her – that's where it gets really delicious, you know? You've got a whole different sort of gamut of new things and avenues to explore. And within the family, you know, the thing is, you want to be close to the family. That's just as much in the writing as it is in the characters."
Shiv and Tom's marriage/business arrangement was one of the central narrative strands in the first two seasons. Their relationship is still in a precarious place at the beginning of the latest instalment. What does the future hold for them? Are they built to last?
"I don't know if it's a healthy relationship [laughs], but that doesn't mean it's not necessarily built to last, which is maybe unfortunate. I'm sure there are many unhappy and unhealthy relationships that continue to go beyond their expiration date in the world. Inevitably, that's something that's kind of interesting and provides some real drama for both Shiv and Tom as people, and for us actors as characters."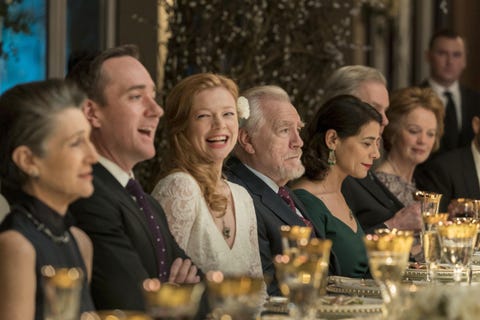 HBO
If you had to hazard a guess at how viewers are going to feel at the end of season three, what do you think their overriding emotions will be?
"Oh, I mean, it's tumultuous, really, isn't it? The thing about being in the Roy family is that you can never really trust anybody else, even if they are family. And that's a confronting thing. That's something they kind of get hit over the head with, time and time again. But, yeah, they're still family, and so they still have to find a way to do it if they want to move forward."
In August last year, Brian Cox (Logan) said that he knew how season three was going to play out. Have you discussed season four? Do you know what's around the next corner?
"No [laughs]. It's not something we've discussed. I mean, there's a part of me that would love to know, and also a part of me that like… I actually really enjoy getting to know things, you know, sort of as the audience, in the episodic nature that… you know, as an audience discovers.
"It's been really fun and one of the joys of this show, to be able to episodically discover when you get the new scripts delivered what happens next to the characters. And though I've been told with the second and third seasons when we were shooting them a little bit of an outline, it's very easy to forget when you're being faced with the scripts and the words and all the other things that make up a script to give it life, rather than just overarching plot lines."
How long, realistically, do you think it can run for?
"I don't know. It's definitely up to Jesse and the creative team, I think. And Jesse, as the leader, I think he's got the challenge to keep that bar high, and for us all to climb up to it, and hopefully jump over it. And really, at the end of the day, he's a very classy writer, who's not going to make it go longer in a way that's not going to be at the excellent level that it has been so far. As long as it lasts is at long as it lasts [laughs]."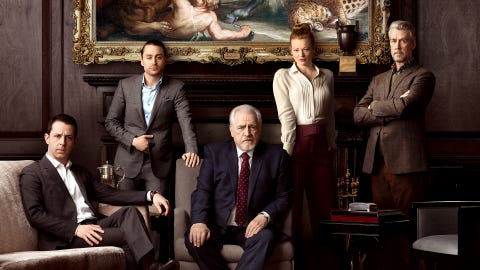 HBO
Are there any methods that you use to construct your character on a personal level, whether that's listening to a particular piece of music or journaling or wearing a specific item of clothing?
"It's a combination of things, really. I think putting on the outfit is like putting on armour, and putting on the heels and blazer and the turtleneck [laughs]. It's something that is very Shiv, and it gets you into the mind-set of the world.
"But really, learning my lines, and turning up on set, and listening to what everybody else says, insofar as the characters, and how inventive people like Matthew [Macfadyen] and Nic[holas Braun], and Kieran [Culkin] are, it's really… It does half the work for me, really, because all you have to do is be present, and listen, and react."
Where does Succession rank when you think about your career to date?
"They're all different. And to be honest, my approach to them has always been different as well. Each project calls for a different approach, I find. Something like Predestination called for me, personally to do… I wanted to do a lot of research, a lot of very precise work and physicality and voice and history and learning and building a character.
"Whereas something like Succession is stripping away artifice, I guess, and trying to be as present and as natural and as spontaneous as possible. It's been more confidence-building as an actor, rather than trying to build the character separately. That's how I'd describe it."
Succession airs on HBO and HBO Max in the US and Sky and Now in the UK.