It's fun to dream about a metaverse – a virtual world with its own "meta-economy" where you can work, learn, and hang out or play games with friends, all from the comfort of home. But who's making this happen?
Microsoft (NASDAQ:MSFT) and the Meta Platforms (NASDAQ:FB) formerly known as Facebook – which stand to sell a lot of virtual reality (VR) and augmented reality (AR) glasses – are both charging forward with metaverse projects. Apple (NASDAQ:AAPL) is likely to follow.
Meanwhile, metaverse platforms are already seeing a full-blown land rush. As concert venues and digital storefronts spring up in Decentraland (CCC:MANA-USD) and The Sandbox (CCC:SAND-USD), virtual real estate has sold for six figures, even seven figures, in these early metaverses! At this rate, sales could double again in 2022.
Land rushes always work much the same way – whether in the New Digital World… or the original "New World": the American frontier.
Four hundred years ago, European settlement in America was driven by venture capital – the Virginia Company, the Massachusetts Bay Company – advertising and drawing people to their particular venture. (Sound familiar?) But whichever colony they picked, millions and millions of people came to the New World somewhere.
This is how the metaverse is. There will be plenty of different platforms. And the most successful will be the ones who draw the most people to come and produce and spend there.
In tech, this is called "the network effect." It's also why land in Manhattan is worth so much more than rural areas. And it's why – to win the land rush to the metaverse – you need a lot more than great hardware. You need users. And you need infrastructure to support them.
Three years before Big Tech ever spoke of a "metaverse," the developers of projects like Axie Infinity (CCC:AXS-USD) were laying all the groundwork. They just tend to fly under the radar…for now. But today, they're making some big moves that investors in the New Digital World won't want to miss.
Axie Infinity Becomes an Online "Kingdom" in 2022
Its creators have always explained their project like this:
"Axie Infinity is a virtual world full of fierce, adorable pets called Axies. These pets can be battled, collected, and even used to earn cryptocurrencies with real value. Axie was built to introduce people to an exciting but sometimes scary technology called Blockchain through a fun, beautiful, and nostalgic game." (emphasis mine)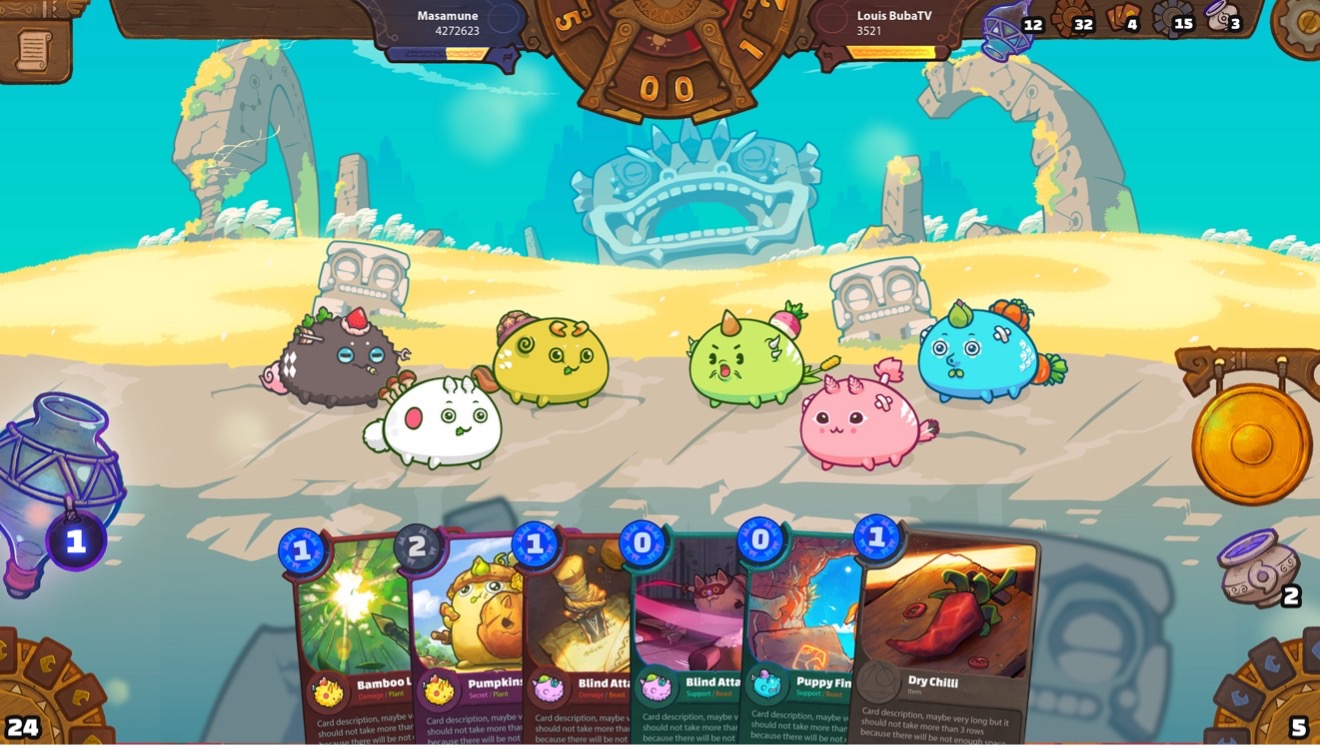 Source: Axie Infinity
Today this "Pokémon of the blockchain" is getting a metaverse upgrade called Project K (for "Kingdom"). Now you can buy digital land there – expanding the potential economy of Axie Infinity, beyond just battling and breeding your Axie digital pets.
"You'll be able to build structures and harvest resources and fight for control of territory. Form groups," explained Jeffrey Zirlin, cofounder of Axie Infinity's publisher, Sky Mavis, on Sunday's episode of the Real Vision Crypto podcast. "It'll be more of a city builder."
Below we get a preview of how Sky Mavis is deepening the animation – and the world itself: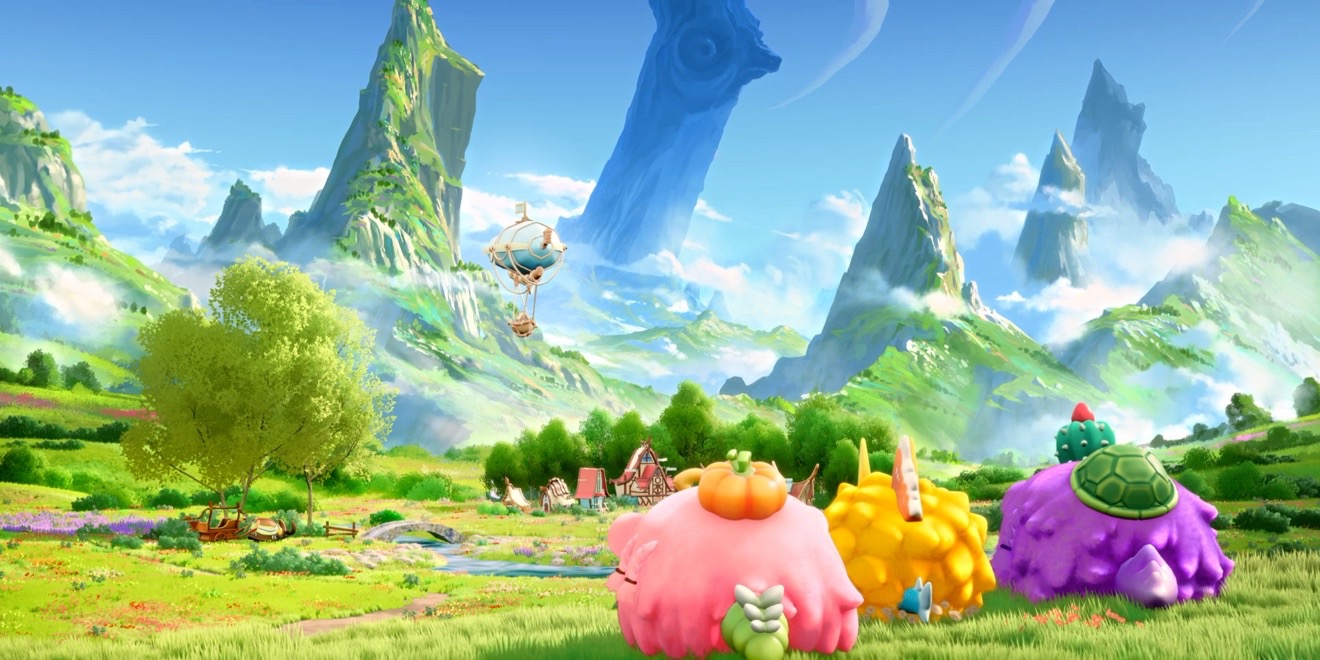 Source: Axie Infinity
That's just the beginning of Sky Mavis' big ambitions. They're looking to do more games – maybe a lot more – within the enormous community that sprung up around Axie Infinity.
And in this metaverse land rush, Sky Mavis has both of the key advantages: the people, and the infrastructure.
Axie Infinity Achieves Unprecedented Scale
Axie is one of the largest crypto games, where you can earn tokens – exchange them for Ether (CCC:ETH-USD), then into fiat currency like the U.S. dollar – and trade non-fungible tokens (NFTs) for the game. It wasn't the first. That distinction likely goes to CryptoKitties.
However, while CryptoKitties lost its luster within a couple of months, having nearly crashed the Ethereum network… Axie Infinity took the same concept to new heights.
On Real Vision Crypto, Zirlin reported 2.5 million daily active users – and 3 million total owners of Axies.
In its NFT marketplace for buying those Axies (thus allowing you to play and earn in the game), Axie Infinity has seen $3.9 billion worth of NFT sales!
This puts its Ronin blockchain at the #2 ranking by NFT volume: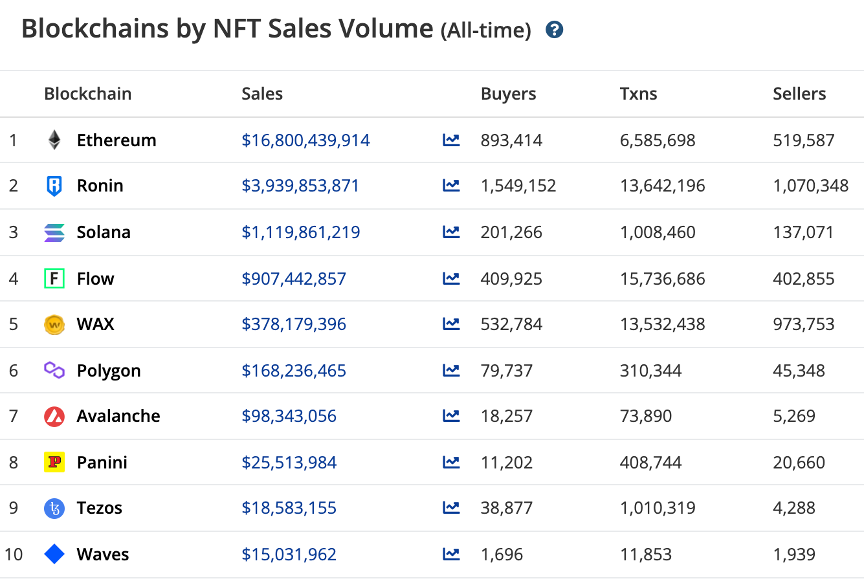 Source: CryptoSlam
To scale up and serve these millions of people exchanging billions of dollars… The Sky Mavis team spent the last four years developing all the infrastructure you need for a successful Web3 metaverse.
To get started, new players go to Mavis Hub. "In the future, we plan on making it something akin to the Steam of these NFT powered games," says Zirlin.
Right now, there's just Axie. So, to get more games on there, Sky Mavis is developing them and opening up to community development of Axie games…plus new, third-party games.
The Builders Program just launched in mid-January – and already, "We have over 1,300 applications… and over 100 third parties that want to deploy smart contracts on Ronin Network right now," tweeted Sky Mavis cofounder Aleksander Larsen on Monday.
Axie has been its testing ground all along for what are clearly bigger ambitions. Next, we could see a more robust metaverse style platform like what's currently being developed for the Star Atlas (CCC:ATLAS-USD) crypto game: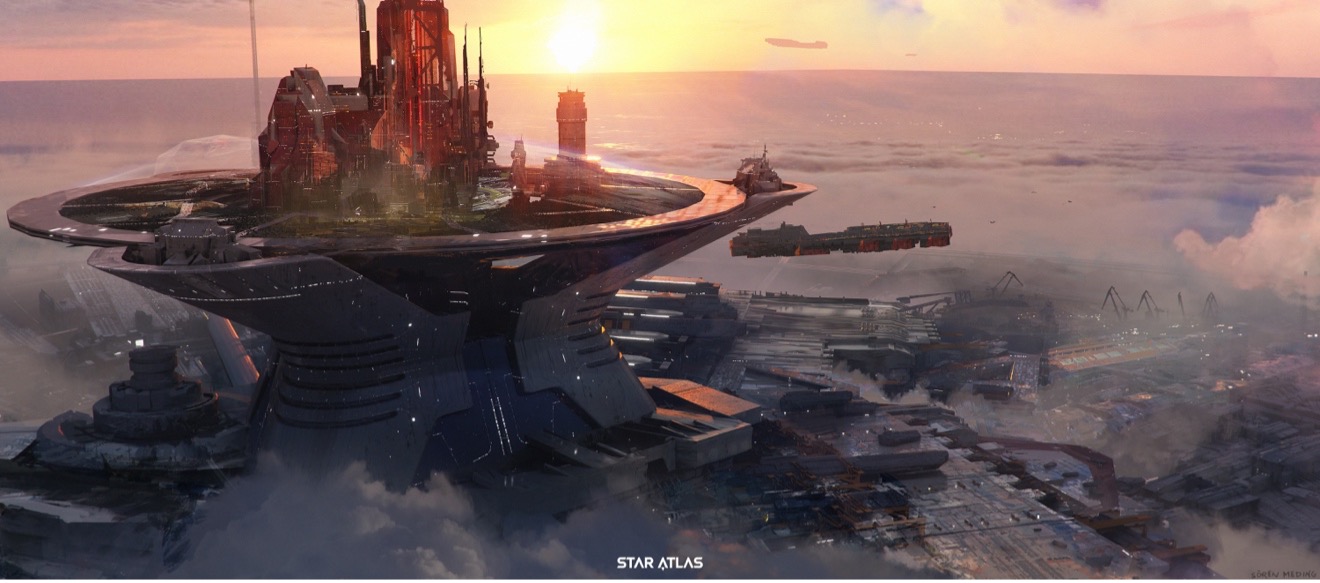 Source: Star Atlas
All of this, Larsen notes, would "increase demand" for its new crypto token: Ronin (CCC:RON-USD).
New Ronin Ecosystem Opens The New Digital World to Millions
Sky Mavis launched the Ronin blockchain a year ago so Axie players could transact more quickly and cheaply than on Ethereum.
CoinDesk reports that by November, Ronin "processed 560% more total transactions than the Ethereum blockchain, according to a report from Nansen." Now with the RON release, token holders will govern the network, can stake their RON in the future to earn yield, and pay fees.
But if you open a Ronin wallet – where you can store Axie NFTs and tokens, ETH, and the stablecoin USD Coin (CCC:USDC-USD) – then your transactions on Sky Mavis' blockchain are free.
Axie Infinity is huge in countries like the Philippines, where the economy contracted -9.6% in 2020. Play-to-earn on Axie has allowed a million Filipinos to continue paying their bills during COVID.
So, in the Philippines as well as Venezuela, "it's becoming something like CashApp, where you can actually use it to pay! You can use your Ronin wallet to pay for goods in the physical world as well," Zirlin explains. "Keep in mind, Axie community members own a lot of businesses. For them to do their part, a lot of them will start accepting the currency."
Ronin even has its own decentralized exchange (DEX), Katana, where you can trade in and out of Axie cryptos to something you can make payments with.
Katana is a baby compared to Uniswap (CCC:UNI-USD) or its clone PancakeSwap (CCC:CAKE-USD). But last month, Katana had nearly twice the users of SushiSwap (CCC:SUSHI-USD) and Solana's (CCC:SOL-USD) DEX, Raydium (CCC:RAY-USD):

Source: DappRadar via Aleksander Larsen
All of this development is helping make Mavis platforms like Axie Infinity a smooth experience, as well as a rewarding one.
That is opening doors around the world. Of the 3 million people who've opened Ronin wallets to buy Axies, "50% of them have never used crypto before. 25% don't have a bank account. We're really getting it into the hands of people that need this technology the most," says Zirlin.
And as these platforms develop into deeper metaverses… Earning crypto there could become a typical summer job or "side hustle."
At least in the metaverse – whether simply attending an online meeting, playing to earn, or running an NFT based business – work can actually be…fun.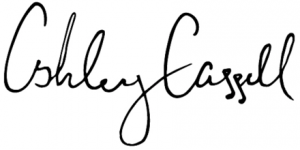 Ashley Cassell
Contributing Editor, The New Digital World